It's not really the most wonderful time of the year unless there is snow involved. Fact. 
Not only can snow be the greatest part of the British weather experience, but it also guarantees more happiness than a decent summer season.
Ah snow. Word on the street (the street being the Met Office) is that we are due a sprinkling of snow, with many places across the UK being treated to a flurry last night.
And snow lovers couldn't be happier about this.
1. So PRETTY
Of course autumn is really beautiful, what with the leaves all turning to a cosy shade of orange. However, not even the prettiest autumn scene, trees lining a path through an empty park, could ever trump a field full of freshly fallen, untouched snow.
2. Makes Christmas better
There are only two things that could make Christmas Day even better; meeting Santa Clause, or a white Christmas.
Nothing could match the warm fuzzy feeling of waking up early in the morning on Christmas Day and seeing your street transformed as if it's been draped in a layer of clean cotton wool.
Bing Crosby felt exactly the same way.
3. Snowmen 
You love nothing more than grabbing a few sticks, buttons, pebbles and the obligatory carrot stick and assembling a small team to make an epic snowman.
Of course you take this very seriously, and every time you pride yourself on having the best snowman on the street.
In fact you have a strict method involving rolling a huge ball of snow down a slope in order to get your snowman as big as possible. You have also been known to shed a tear once he melts away. *Sob*
4. Snow days = best days
There are waves of excitement that still feel the exact same way when you're an adult as they did when you were a child.
Stuff like watching Home Alone, birthday cake… and snow days.
A snow day feels just as amazing now, when you can't get into the office, as it did when school was closed.
Especially when you get to the station only to be greeted with signs telling you that all trains are cancelled.
You take this opportunity to power walk home as quickly as possible, alerting everyone you meet on your way that it's now an official snow day, whilst being busy with thoughts of how to make the most of it.
Of course throwing a few snowballs around is mandatory.
5.  The memories
It doesn't matter if your school days weren't your best days, because the memories of snowy times during school definitely makes up for this.
The only thing to trump the mayhem of times when a dog managed to get into the playground was sitting in Maths and seeing thick heavy flakes falling and engulfing everything.
Most of the time your teachers would give up trying to capture your attention and let you out early which was always welcomed.
6. Perfect for long walks
There is something special about being able to stomp over fresh untouched snow whilst wrapped up head to toe in at least six layers of clothing.
Is there anything better than popping on some wellies and going for a long walk in the crisp cold air whilst feeling the soft snow underneath your feet?
Probably not.
7. Everything stops
Of course some people don't like the snow because it causes disruption, but this can actually be a good thing.
It's nice to have a bit of disruption which causes things to come to a bit of a stop, proving that it's not the end of the world if you don't manage to answer all your emails before 6pm.
8. Snow watching is intense 
The only thing that could ever trump a snow filled walk, is sitting inside near the radiator with a hot drink and watching the snow fall and seeing the world turn into a winter wonderland.
Preferably whilst wearing thick woolly socks.
During this ritual you embark upon an emotional roller-coaster as you are glued to the window desperately wishing for the snow to become thicker, and heavier. Any sign of easing off leads to severe disappointment, which can only be ended by another flurry.
9. It's very exciting 
Waiting for the snow to arrive is a bit like waiting for a baby.
You know that it will come at some point, and despite having a rough time frame you still exhaust yourself with excitement waiting for it to arrive.
Once it finally arrives there is something magical about waking up and being able to tell from the silence outside, and the light reflecting off the snow into your bedroom that your wait is now over.
10. How to deal with haters
Being a lover of snow means you've developed a very thick skin to not only deal with the temperature drop, but also all of the people who don't like the snow.
You've figured that if you can convert one snow hater to a snow fan then you've pretty much served your purpose on Earth.
11. SLEDGE TIME
You've probably got a customised beauty hidden in your garage, or garden shed that you always bring out as soon as the snow lands.
You also know the best parks within a 10 mile radius to go get revel in all the fun that sledging offers. And you head out with a sense of urgency, in order  to get the best of the snow before pesky teenagers ruin it all.
12. It's never enough
Chances are that most years you will end up slightly disappointed, as the UK tends to only get a small sprinkling.
But this just means that when we receive a heavy snow storm, you take full advantage of this rare event by spending as much time as possible outside.
You will even risk mild frostbite and soggy gloves in order to squeeze in as much time as possible in the snow. And it's well worth it.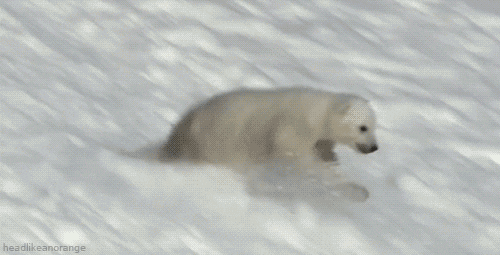 13. And it always goes too soon
The fact that snow melts away is one of the biggest tragedies in your life, and each time the sun comes out you are filled with dread.
Especially when it goes from being fresh white pure snow and disintegrates into a brown muddy slushy mess.
The only way to get through this is by remembering all of the good times you've had with it, and pinning your hopes on it returning next year. Courtesy of: The Metro UK.